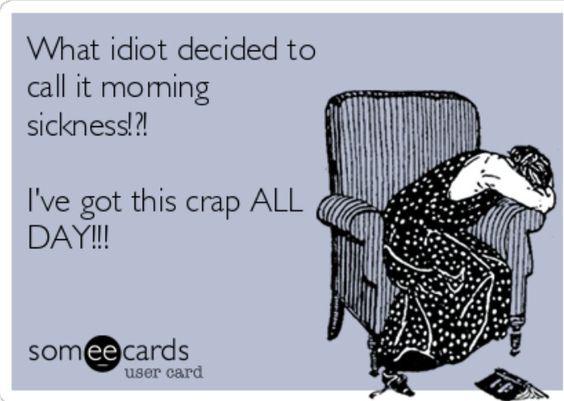 Pregnancy just became a lot harder!
Remember last week when I felt amazing? Yeah… I don't feel quite so wonderful now. In fact, last week feels like a distant memory. As I sit here, I think… How the f*ck am I only 7 weeks pregnant. It has been the longest week ever.
I've been sick a few times now. In the morning when I haven't had breakfast quick enough. I end up sitting on the cold bathroom floor as I wrap my dressing gown tightly around my body, with watery eyes, I heave in to the toilet… well… needless to say, It's pretty grim, pretty soul destroying. I try and do it with a smile. Trying hard to never lose sight of how lucky I am. But, it's hard. I try and think about my shopping list or the school run. I try and dismiss it, like I don't have time for the delay in my morning routine. Sometimes it works. Most of the time it doesn't. Most of the time, I just have to wait until it's over and then leg it downstairs for water and food to stop the urge from coming back. So far it has just been the mornings. The rest of the day, I manage to control it with 'little and often' meals and plenty of fluids. The queasy threat that pangs in my body and throat, constantly throughout the day sucks! The sickly feeling just sits there, waiting for any sign of weakness.
Food has become my nemesis! I used to love cooking for my family, for myself but now… the thought of putting any food in my mouth, the smell of food cooking… basically, it turns my stomach. I don't want any part of it.
And what is with every single sense in my body right now? They are massively hightened and massively confused. Everything smells so strong, Every noise is louder, Everything I taste sits on my tongue for what feels like days… and my skin feels sore all of the time, like the 'ill skin' you get when you have the flu.
My tummy is getting a little bigger now. Only very subtly but it has definitely changed. It's nice. One of the things that makes me smile. One of the things that makes feeling a little rubbish, worth every second. As nice as it is, it's weird too. When I was pregnant with Noah, I didn't start showing until  six months. When I was pregnant with Ellenah, I didn't start showing until five months. And now, third baby, seven weeks… He or she is reaching up to say hi to Mummy.
He or she? I'm desperate to know what this baby is. I can't wait to find out, I have absolutely no idea. This pregnancy is incomparable to my last two pregnancies, I can't even guess. Not in the slightest.
Argh! This update sounds like a whole lot of whining. I promise, it hasn't been a completely awful week. It was my Mums birthday on Thursday and we went for a lovely breakfast together, with my three big sisters. It was such a great morning. So happy. I got so swept away with the smiles, I'll be honest, I almost broke. My secret very nearly shot out of my mouth, across the table and in to the ears of my family. I literally had to bite my tongue at points, there were too many opportunities to spill the beans. I'm not sure if I'm proud of myself for keeping my mouth shut, or not.
I'm questioning myself right now. Asking myself if keeping this a secret is a good idea after all. I could do with a cuddle. It would lift my spirits to hear my favourite people say 'congratulations'. It would be better if I didn't have to hide the sickness. It would be nice to have a girly little cry, through happiness, because the cute woodland creatures in the new John Lewis Christmas advert stole my heart or from getting hysterical because I can't eat brie or runny eggs anymore.
Plus, this is a killer of a secret to keep. I still kind of hate myself for it.
Anyway, I need to sleep now. It's past this mama's bedtime. I'll be real with you, bedtime is past my bedtime lately. I'm always tired! I hope next week will bring happier chat… roll on week eight! Actually, roll on week whenever I stop feeling sick…
With Love,
Ria x